Sim Card Errors and How to Recover Deleted SMS from Sim Card
Part I. Common Sim Card Errors and solutions
Sim card is blocked
1. Sometimes you may have Sim card blocked problem and don't have PUK number. The code is usually a unique number only for that particular phone, based on its serial number (what is called its IMEI) and the service provider who locked it.
2. If this happens, you can contact the Customer Care service of your cell phone company, give them your phone number and once they are sure it is really you, they will give you the PUK code, which you need to enter into your phone; you will then be asked to set a new PIN code. Once you have your PUK then keep it in a safe place away from your mobile as it is the key to unblocking your SIM.
Sim card registration failed
1. Take out the SIM and test it with a different phone, if the phone fails to read the SIM, just change another SIM card.
2. Take out the battery and SIM card. Use a clean eraser to wipe the gold contacts of the phone and on back the SIM card. Replace the SIM and make sure ití»s firmly held in place.
3. Despite all your efforts, the phone refuses to work then try to the phone repaired or replaced. Some users found that the cell phone firmware upgrade tends to fix this issue.
Sim card rejected
If your phone showed up "Sim card rejected", please try following steps:
1. Remove Sim card from your phone.
2. Look for any water, dirt or grime that may have gotten into the phone or on the SIM card. Use a soft cloth to gently wipe the SIM card, the battery and the area around the SIM card compartment. Make sure to use a fine cloth that will not tear or catch on circuitry and other metal parts.
3. Put Sim card back to your phone, and turn the phone on, if the SIM card has been cleaned and properly placed back into the phone, it should function properly.
4. Contact your cell phone service provider if the SIM card is still rejected. You may need to replace it.
Part II. How to Get Back Lost Data from Sim Card?
Recover text messages and more from Sim card directly
It is not easy to recover lost data such as text messages, SMS, contacts from a Sim card directly. You can use a program named SIM Manager to retrieve deleted data from Sim card. See below is a screenshot of this SIM card recovery software.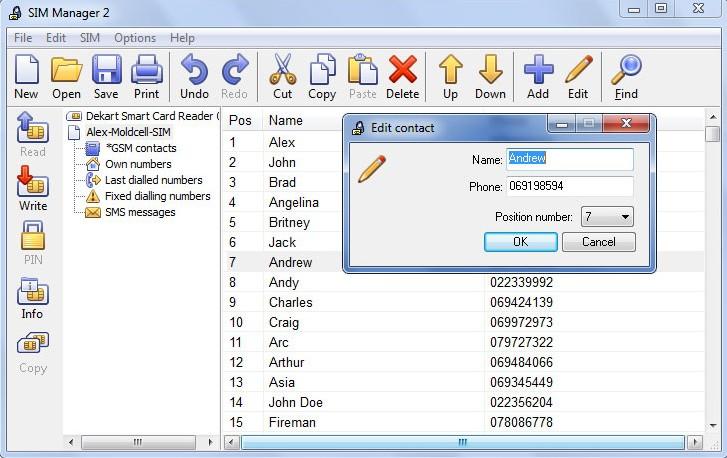 Part III. How to Get Back Lost Data from Sim Card?
How to recover text messages from SD card
Sim card recovery is possible because SD card doesn't erase a file immediately once you deleted it, instead it just make vacant for subsequent file. Unless the space is overwritten by new data, your old deleted files like text message, contact number and more. are still there and can be retrieved.
1. Download Text Message Data Recovery and install it on your Windows PC (For Mac users, you could download Text Message Data Recovery for Mac)
2. Remove SD card from your iPhone. In many cases, SD card was located on the back of the battery. You need to slide it out.
3. Put SD card in card reader and connect it to your computer's USB port. If the card is detected by your computer you would find it on the "Removable media" part of Text Message Data Recovery's interface when you launch the program.

4. After scanning, all deleted or lost files will be displayed on a list. Select the text messages you want to recover and click í░recover allí▒. And you could successfully finish SD Card SMS recovery within minutes.
Besides recovering text messages, lost music, videos or contact numbers in damaged SD card also can be recovered. Supported Mobile phone with SD card including: Android, Blackberry, HTC, Vertu, Nokia, Sony Experia, Samsung, Motorola, etc. Text Message Data Recovery could easily achive Sim card data recovery for almost all brands of cell phone.


Related article: